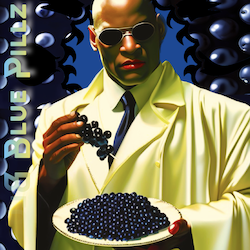 Blueberry Pilsner
OG 13°P / IBU 18 / ABV 5.93
Indulge in the allure of the Blue Pillz, where the choice is not merely a question, but an invitation to a decision worth savoring of calm and familiarity, like stepping into a comforting dream.
The choice becomes an embrace Blue Pillz and a surrender to delightfully refreshing reality.
With each sip, you'll be drawn deeper into a world of exquisite blueberry, revealing gradually, like secrets whispered in a dream.
Choose the Blue Pillz, and surrender to the seductive embrace of familiarity with a twist, discover the extraordinary within the ordinary.