click above to jump to a section

click above to jump to a section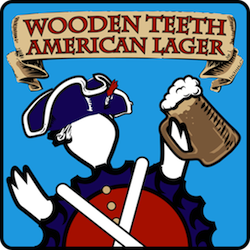 OG 10.8°P / IBU 18 / ABV 4.8 / G↓
2018 GABF Gold Medal Winner
The forefathers of American brewing developed their craft from the German heritage of lagering, or cold conditioned beer. Wooden Teeth continues this tradition with a light malt base that utilizes…
read more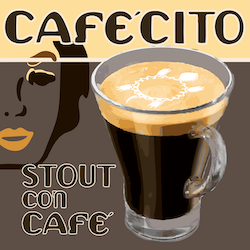 Coffee Stout
OG 16.6°P / IBU 38 / ABV 5.7
A dark and mellow coffee treat infused with Cuban beans roasted locally by Moons Coffee silky, roasty, for the cozy times, afternoon pick-me-ups & post meal conversations, when your buzz calls for a buzz.
read more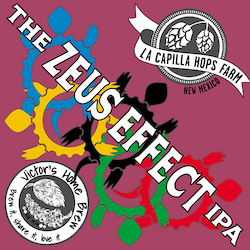 Wet Hop Session IPA
OG 10.3°P / IBU ~50 / ABV 4.3
In collaboration with Victor's Homebrew and La Capilla Hop Farms. This little bolt of flavor carries 30lbs worth of fresh Zeus hops, grown locally from La Capilla In La Cienega. It has a peppy American kick with notes of nettle and a bit of lemon balm. This is a highly drinkable table beer meant for hop heads.
$1 from every pour of Zeus Effect will go to benefit the NM Special Olympics.
read more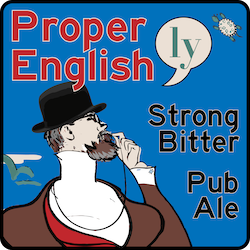 Strong Bitter – Pub Ale
OG 11.5°P / IBU 36 / ABV 4.9
Their ain't no more highly valued are england's Pale Ales, what are premeum quality beers. with EKG and Fuggle being considered Britain's finest hops, Going together quite good, irregardless.
read more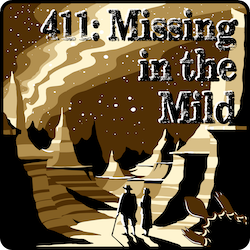 English Dark Mild
OG 10.4°P / IBU 26 / ABV 3.88 / G↓
A perfect hiking beer. You are recommended to carry many essentials during any voyage in the wilderness. An individual first aid kit, flint and tinder, plenty of water, a GPS device, this beer, and a breathalizer …
read more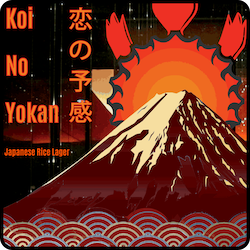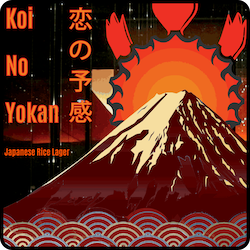 Japanese Rice Pale Lager
OG 10.1°P / IBU 27 / ABV 4.55
Koi No Yokan 恋の予感 – trust in the inevitability of love. With toasted flaked rice layered upon pilsen malt and a light touch of Sorachi Ace, we trust in the inevitability that you will love the lemony sweet and hint of cedarwood in this brew.
read more
GUEST TAPS
When we're not drinking Turtle Mountain beer …
IBU 60 / ABV 8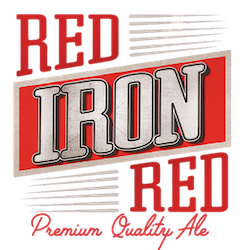 A red American IPA with classic C hop aroma. Bready and toffee notes balance the fruity hops with a touch of roast and a medium full body.
read more
IBU 100+ / ABV 7.2

Big citrus aromas dominate this hop forward beer while providing a nice bitter punch. Brewed and dry hopped with an assortment of American hop varieties, this beer holds up to the standards of hop lovers everywhere.
read more
IBU 20 / ABV 5.2


Helles (hell-yas) lager
read more
IBU 20 / ABV 5.2

Sweet, Silky and Delicious. This Stout brings out the child in any adult. Hints of roasted malt and chocolate pair with a delectably smooth finish. Contains Lactose.
read more
IBU 15 / ABV 5.4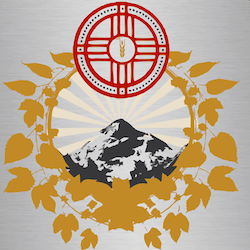 A traditional take on a Bavarian classic. The aroma is everything we love in the style; clove, banana and vanilla. The body is rich and creamy, yet finishes fairly dry and is as refreshing as any beer you'll drink here or anywhere else.
read more
IBU 5 / ABV 5.8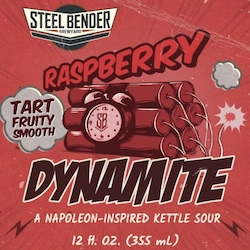 A kettle sour brewed with a ridiculous quantity of pure raspberry puree. A fantastically fruit-forward brew with a raspberry aroma, striking appearance, and a refreshingly sweet/tart finish.
read more
ABV 6.0

This slightly sweet cider is bursting with flavors and aromas of fresh fruit and finishes clean and crisp like a bite of fresh apple.
read more
BOTTLES & CANS
We proudly carry a handful of craft ciders & beers in cans & bottles
MICROS
Apple Ciders
12oz cans 5.00
CHERRY, CRANBERRY or BOURBON-BARREL PEACH
crafted with New Mexico Spirits and handmade ingredients fresh daily
$10
West Siiieeede
• Wanted Spirits Vodka • mint syrup • lemon • soda • mint sprig
Clover Club
• Hulme's London Dry Gin • lemon • raspberry syrup • egg white • bitters
Air Mail
• La Reforma Blanco Rum • lemon • honey • Blanc de Blancs • lemon twist • nutmeg
Dark Side of Winter
• Wanted Spirits Whiskey • lemon • TMBC dark beer syrup • Bordeaux float
Hot Toddy
• VARA Fine Alembic Brandy • Red River Jacks&Sixes Spiced Rum • lemon • honey
$11
Velvet Underground
• La Reforma Agave Reposado • grapefruit • lime • honey • egg white • orange and Peychaud bitters
$12
Ty Fighter
• Wanted Spirits Whiskey • Fonseca Tawny Port • lemon • port & raspberry syrups • chocolate bitters
Vesper
• Hulme's London Dry Gin • Expedition Vodka • Cocchi Americano • grapefruit and lemon bitters • lemon twist
$14
Janie's Got a Gun
• 505 Mexcal • Cappelletti • lemon • cinnamon • Angostura bitters • orange twist
Retro Canadian
• Bacon-Washed Taylor Garrett Rye • maple syrup • orange & angostura bitters • orange twist • candied bacon
THE SHELF
Uplift Your Cocktail's Spirits
Agave Reposado, Five Ducks    
+4
Agave Reposado, La Reforma    
+1
New Mexcal, 505 Spirits              
+3
Taylor Garrett Rye                          
+2
Taylor Garrett Rum-Rye                   
+2
Taylor Garrett Imperial Malt             
+4
Pistol Pete's Six Shooter Rye              
+3
Big Nose Kate Whisky, Altar Spirits    
+1
Colkegan Single Malt Whiskey             
+4
Colkegan Apple Cask Whiskey             
+4
2020 Hindsight Whiskey, Tumbleroot  
+2
Farmhouse Whiskey, Tumbleroot         
+5
Rolling Still Vodka                                  
+1
Expedition Vodka                                    
+0
Blueberry-Lavender Vodka, Teller         
+1
Jacks & Sixes Spiced Rum, Red River 
+1
Añejo Dark Rum, VARA                          
+0
High Desert Gin, VARA                        
+0
Lockpick Gin, Safe House                  
+1
Navy Strength Gin, Tumbleroot        
+4
Hulme's Gin, Still Spirits                  
+0
light, bright, berries
Brunn Blauer Zweigelt
Austria 2017         gl 10 , btl 32
Elk Cove Estate Pinot Noir
Willamette Valley  2019         ½btl 28
Merum Jumilla Monastrell
Spain 2018         gl 9 , btl 29
medium, rich, dark berries
Vignobles Bodillard Morgon Gamay
France 2019         btl 45
Le Ragose Valpolicello Classico
Italy 2020         btl 41
Antano Montefalco Sangiovese Blend
Italy 2016         btl 47
Coltibuono Chianti Classico Sangiovese
Italy 2018         ½btl 21
VARA Tempranillo
New Mexico 2019
(from Spanish grapes)    gl 9 , btl 29
Jaffurs Syrah
California 2018         ½btl 30
Comtesse de Malet Roquefort
France 2018         gl 10 , btl 32
Zarihs by Borsao Syrah
Spain 2016         btl 47
big, bold, tannic
Il Pogglio Sassello Rosso di Montalcino
Italy 2017         gl 11 , btl 35
Poliziano Vino Nobile di Montalcino Sangiovese
Italy 2017         btl 54
L'Ecole no.41 Merlot
Columbia Valley  2017         ½btl 27
Cune Rioja Reserva
Spain 2016         btl 45
Girasole Cabernet
Mendocino 2019         btl 32
Justin Cabernet
Paso Robles 2018         btl 43
Michael David Petite Petit
Lodi 2019         gl 9 , btl 29
Franco Serra Barolo Nebbiolo
Italy 2016         btl 59
touch of sweet
Tattoo Girl Riesling
Washington 2020         gl 9 , btl 29
Alfred Graf Spätlese Riesling
Mosel, Germany 2018         btl 31
light, easy, fruity
João Portugal Ramos Vinho Verde
Portugal 2019         gl 9 , btl 29
Evolúció Furmint
Hungary NV         gl 8 , btl 26
Lageder Pinot Grigio
Italy 2018         ½btl 25
Iris Pinot Gris
Willamette Valley  2019         btl 34
Nortico Minho Alvarinho
Portugal 2020         gl 10 , btl 32
medium, citrus, minerality
La Fruitière Folle Blanche
France 2019         gl 8 , btl 26
Felsner Gruner Veltliner
Austria 2018         btl 31
Whitehaven Sauvignon Blanc
Marlborough 2021        btl 33
Terra d'Aligi 'Zite' Pecorino
Italy 2020         gl 9 , btl 29
full, weighty, round
Domaine de Couron Viognier
France 2020         gl 10 , btl 32
Domaine Dutron & Fils Macon-Vinzelles Chardonnay
France 2019         btl 45
Line 39 Chardonnay
California 2020         ½btl 16
Duckhorn Chardonnay
California 2019         btl 39
Foris Rosé of Pinot Noir
Rogue Valley 2020         btl 36
Arca Nova Vinho Verde Rosé
Portugal, 2020      gl 9 , btl 29
Poquito Moscato
Spain         ½btl 12
Henry Varnay Blanc de Blancs Brut
France         gl 8 , btl 26
Gran Gesta Cava Brut Rosé
Spain         btl 32
12oz – 5.00
16oz – 6.00
20oz – 7.00
Sample Tray – 8.00
TO-GO BEER:
Growler Fill – 15.00
Quarty 32oz To Go Can – 8.00!
(3 for 20.00)
Evening Hoppy Hour:
9-10pm, Thu-Sat
1.00 off every pour on TMBC brews
1.00 off cocktail specials
*There are upcharges for Guest Taps and some Brewers' Specials