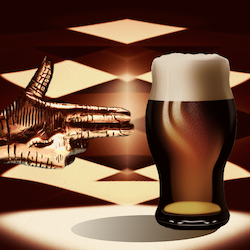 Baltic Porter
OG 17.3°P / IBU 30 / ABV 6.4
♫ Sippin' this Porter, it's like a rap battle on my tongue. Robust ABV, it's got that power, it's never done. Baltic vibes, dancing through the air. When we run this porter, nothing can compare.
♫ So let's raise a glass, to this masterpiece we've found, with rap heads it aligns, it's a true brew for our times. Run the Porter reigns supreme. It wears the crown!