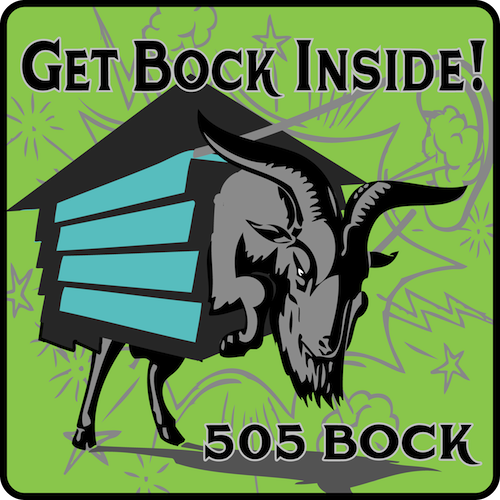 International Dark Lager
OG 12.4°P / IBU 22 / ABV 5.32 / G↓
Our interpretation of the famous Shiner Bock out of Texas. When ordering a "bock", the German word for strong, in Europe one should expect a higher strength beverage. However, Shiner Bock comes in at 4.4%. This is not bock strength. But the alcohol range is much more agreeable to consumers, and it sounds cool. Get Bock Inside was created during the closures of 2020. We call it our Premier Quarantine Beer. Our interpretation is rather darker than the commercial version, allowing for more bread crust and biscuit, with a slight insinuation of roastier flavors. Its hops are German and Czech – German Magnum and German Tettnanger finished off with the world renowned Czech Saaz.
Get Bock Inside! is a gluten-reduced true beer!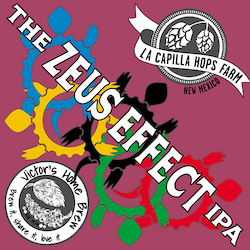 Wet Hop Session IPA
OG 10.3°P / IBU ~50 / ABV 4.3
In collaboration with Victor's Homebrew and La Capilla Hop Farms. This little bolt of flavor carries 30lbs worth of fresh Zeus hops, grown locally from La Capilla In La Cienega. It has a peppy American kick with notes of nettle and a bit of lemon balm. This is a highly drinkable table beer meant for hop heads.
$1 from every pour of Zeus Effect will go to benefit the NM Special Olympics.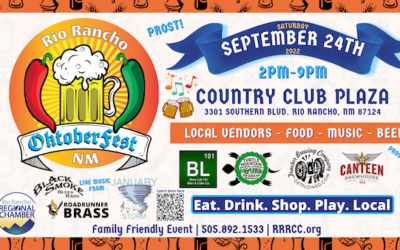 September 24th, 2pm-9pm Oktoberfest Returns to Rio Rancho! A celebration of beer, food, fun and supporting local businesses. Live Music, Food trucks, local vendors, local breweries and more! Cost - Kids Free, Adults - $5 Admission can be paid at the event Sponsored...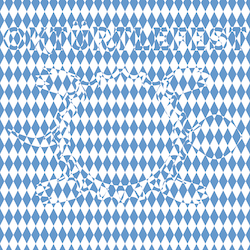 German Festbier
OG 13.5°P / IBU 25 / ABV 5.2 / G↓
zicke zacke, zicke zacke, hoi hoi hoi !!!
ZICKE ZACKE, ZICKE ZACKE, HOI HOI HOI !!!