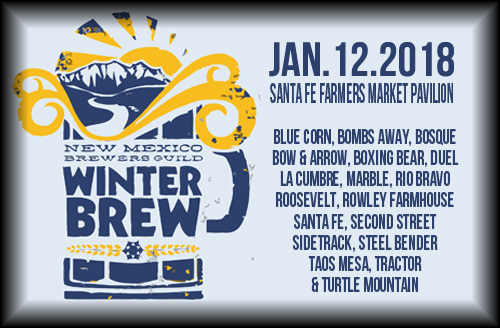 NM Brewers Guild's 7th annual WinterBrew!
Breweries from around the New Mexico converge upon Santa Fe for the 7th annual WinterBrew festival at the Santa Fe Farmers Market Pavilion. Admission includes sampling, a commemorative pint glass, and a pint fill of your choice. This year will feature cold-weather favorites such as stouts, porters, barleywines, winter warmers, and barrel-aged seasonals.
Turtle Mountain will be pouring 3 brews from the vault – Depravity Barleywine, Arsenal Porter, and SCH Strong Scottish Lager, along with 2 of this month's new brews – Infinitesimus Imperial Stout, and Count Hellesarius Helles!
"Beauty is in the eye of the beer holder" – Kinky Friedman "[Hoppy] Trees!" – Bob Ross The next Paint Nite at Turtle is Thursday, Jan 18th. upcoming canvas----> Paint Nite is the new, exciting, fun and truly memorable way to wile away an evening at the pub. Beer...