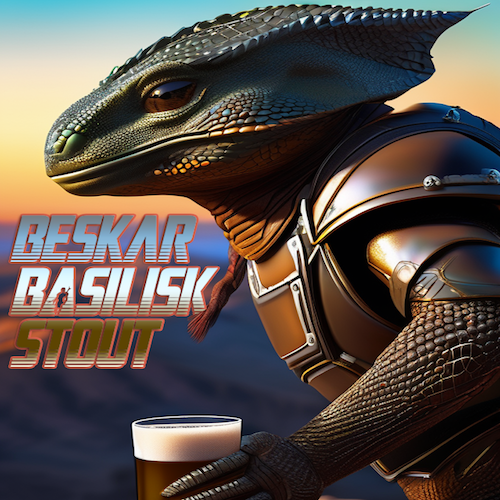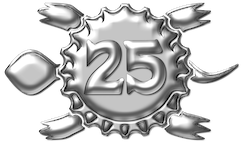 Celebrating 25 Years of Beers!
American Stout
OG 17.8°P / IBU 24 / ABV 5.9
In a galaxy far, far away, where imagination knows no bounds, we brewed the extraordinary Beskar Basilisk stout. With a nod to the mysterious Beskar metal of the Star Wars universe, this stout weaves a tale of flavors as intriguing as the cosmos. As you pour, you'll witness the universe unfold in a glass. Opaque black with mesmerizing garnet undertones, Beskar Basilisk is a visual odyssey into the unknown.
Like the promises of an uncharted star system, the scent of Beskar Basilisk is captivatingly subtle, with hints of earthiness and a whisper of roasted malt. Prepare for an adventure in every sip. Crystal wheat infuses a bready sweetness reminiscent of the galaxy's hidden treasures, while a subtle caramelized essence adds a layer of complexity that only the cosmos could inspire. A symphony of Munich, Dextrin, and Aromatic malts guides your palate on a journey through a wholesome, grainy universe. Chewy and silky, it's as if the fabric of space-time itself is cradling your senses. Flaked oats grant this beer a texture so smooth, it's like discovering a wormhole to a dimension of indulgence. With a minimalist approach to hops, we let the malt complexity take center stage. German Northern Brewer hops provide a touch of bitterness, like the cool, calculated strategies of the Empire. Meanwhile, Hallertauer Mittelfrüh hops offer a delicate aroma, akin to a gentle breeze across the sands of Tatooine.
Beskar Basilisk is more than a beer; it's an expedition into the unknown. Each sip is a portal to the boundless imagination of a cosmic universe, where stouts become stardust and flavors are as limitless as the cosmos. Journey with us through a galaxy of taste and intrigue, and may the flavor be with you.
*Beskar Basilisk contains wheat and oats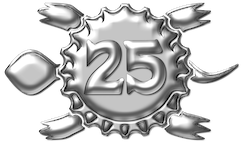 Celebrating 25 Years of Beers!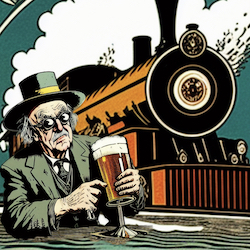 California Common
OG 15.4 / IBU 65 / ABV 6.6
Hoover's Steam is a homage to a distinguished patron of the original Turtle Mountain where this exceptional beer was first crafted. Inspired by his discerning taste and unwavering support, this beer embodies the spirit of camaraderie and community while paying tribute to Mr. Hoover's fondness for rich flavors and balanced character …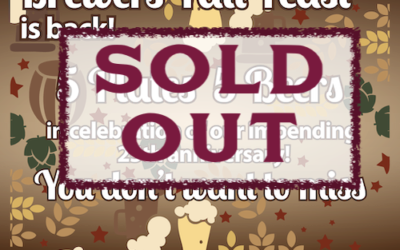 ... This event is SOLD OUT Please keep in mind our future celebration dinners, including: Turtle Mountain North's 2nd Anniversary in late December TMBC's 25th Anniversary Gala in March and many more to come throughout 2024 ... our Brewers' Fall Feast triumphantly...
Honey Brown Ale
OG 14.8°P / IBU 28 / ABV 5.75 / G↓
Sip by sip NectarKeeper Brown unveils its allure. A silky mouthfeel, akin to the golden flow of honey itself, caresses the palate. Providing a beckoning moment to reflect upon the silent heroes of our world, a world kept alive by those who labor in silence to preserve our sweetest treasures, beekeepers and pollinators.