19th Anniversary Brewmaster's Dinner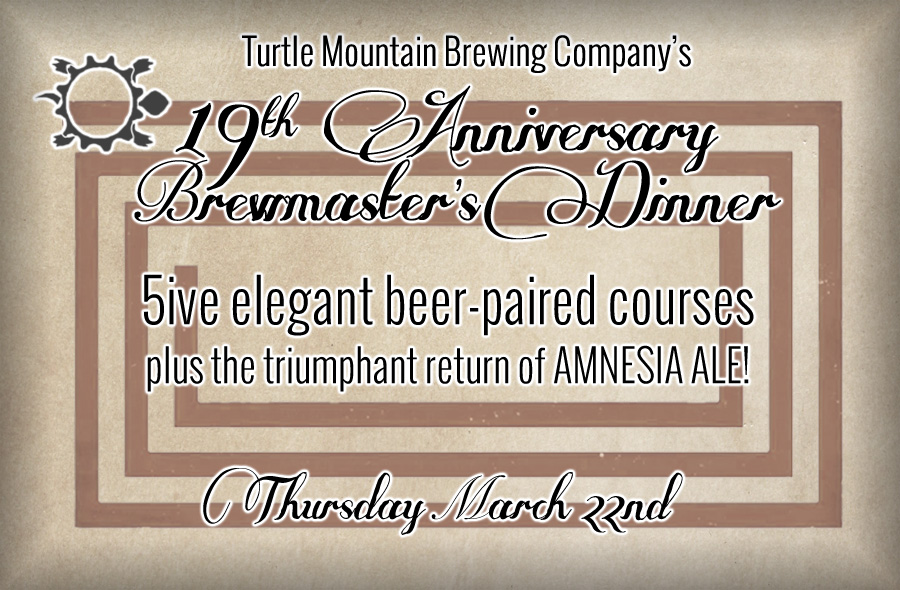 Thursday, March 22nd, 6pm
You are invited to celebrate Turtle Mountain's 19th birthday!
To prove that you can teach an old Turtle new tricks, this year's menu is composed of five über-elegant re-imaginings of the new plates on our updated 2018 menu.  Our chefs have been hard at work, firstly perfecting these daily offerings, and now reconstructing them to pair impressively with four TMBC house beers plus Mick's resurrection of 19th Anniversary Amnesia Ale.  Amnesia, a celebratory seasonal from the early days of the pub, is fondly (dis)remembered by many regulars, and has sparked legendary tales told through the fog of time (and ABV).
Thursday promises to be a very special and decadent evening, just look at this menu!
Charcuterie


Cured Meats, 

Assorted Cheeses, 

Artisanal Breads, 

Grape Mostarda, 

Pickled Vegetables, 

Cherry Tomato, 

Fresh Fruit


paired to Can't Catch Me Copper Lager

Lobster Tostadas


Refried Black Beans, 

Asadero, 

Cabbage Sprouts, 

Avocado-Vanilla Crème Fraiche


paired to Wooden Teeth American Lager

Red Curry Pork Belly


Grilled Bok Choy, 

Green Lentil Pilaf, 

Red Curry Sauce


paired to Hopshell IPA

Amnesia St. Louis Ribs


Amnesia BBQ Sauce, 

Grilled Jalapeño Coleslaw, 

Roasted Corn Potato Salad


paired to 19th Anniversary Amnesia Ale!

Chocolate Caramel Cupcake


Whipped Vanilla Icing, Toasted Pecans, 

Candied Bacon


paired to Stauffenberg Stout
Tickets for this amazing 5 course-5 beer feast are only $50. Spots are filling up fast and reservations are required. Call or stop by the pub today. Full payment plus tax and gratuity are due at time of reservation.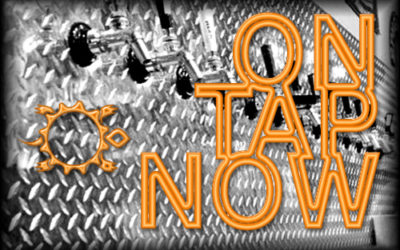 With the help of our rock solid customers, the past two decades have created memories that are igneous yet sweet. To celebrate our 20th year, we wanted to forge a beer that would be as memorable and fantastic as our life in Rio Rancho. This Steinbock incorporated...