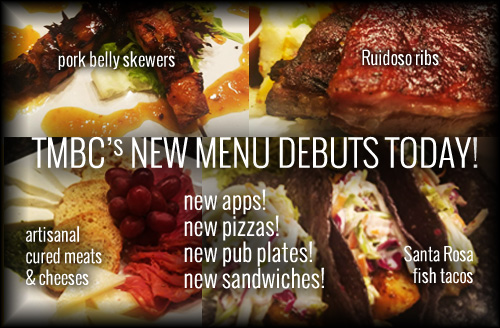 Our kitchen has been working tirelessly to create some new and exciting pub fare for your enjoyment. Join us today for the big reveal!
3 NEW PIZZAS!
CLASSICO – Pomodoro sauce, house-pulled mozzarella and shredded parmesan topped with fresh basil
MIAH-T – Marinara, pepperoni, bacon, Italian sausage, mushrooms, green chile, black olives, shredded parmesan and mozzarella
ALAMOSA – Alfredo sauce, spinach, mushrooms, diced tomatoes, chicken, mozzarella and shredded parmesan
3 NEW PUB PLATES!
SANTA ROSA FISH TACOS – Three blue corn tortillas filled with flaky cod fillets and cilantro lime cole slaw, drizzled with Pineapple Habanero sauce, served with arroz verde and Southwestern black beans
RUIDOSO RIBS – Half rack of slow-roasted pork ribs slathered with Smokey Red Rye BBQ and served with Southwestern black beans and loaded smashed potatoes
SLABTOWN STRIP – House-cut, twelve ounce Angus NY Strip served with sautéed vegetables and loaded smashed potatoes
2 NEW APPETIZERS!
PORK BELLY SKEWERS – Two grilled skewers of house-cured and beer-braised pork belly drizzled with Pineapple Habanero sauce
TURTLE TIDBITS – A selection of three cured meats paired with three artisanal cheeses, served with TMBC mustard, basil pesto, crostini and grapes
PLUS…
KONA CHICKEN – Grilled eight ounce chicken breast with pepper jack, ham, grilled pineapple ring and Smokey Red Rye BBQ on a fresh kaiser roll
HOUSE-PULLED FRESH MOZZARELLA – Now available every day
NEW WING SAUCES – Sweet & spicy pineapple habanero AND Smokey Red Rye BBQ
KIDDIE BURGER – Hamburger, sized just right for your Turtle Tot!
You can view the new menu in it's entirety here. And don't fret most, if not all, of your old favorites are still available via our (SSHH!) secret menu.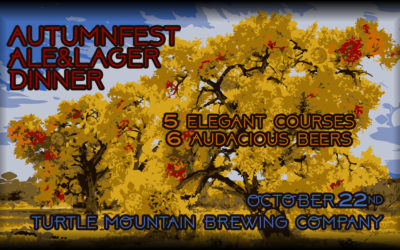 Oct.22nd join us for a very special evening! Our chefs & brewers have been hard-at-work crafting an amazing beer-paired harvest menu for Autumnfest. Featuring five elegantly delectable plates built around six audaciously delicious beers, including the premier of...