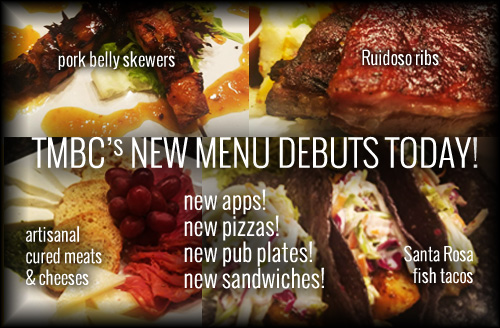 Our kitchen has been working tirelessly to create some new and exciting pub fare for your enjoyment. Join us today for the big reveal!
3 NEW PIZZAS!
CLASSICO – Pomodoro sauce, house-pulled mozzarella and shredded parmesan topped with fresh basil
MIAH-T – Marinara, pepperoni, bacon, Italian sausage, mushrooms, green chile, black olives, shredded parmesan and mozzarella
ALAMOSA – Alfredo sauce, spinach, mushrooms, diced tomatoes, chicken, mozzarella and shredded parmesan
3 NEW PUB PLATES!
SANTA ROSA FISH TACOS – Three blue corn tortillas filled with flaky cod fillets and cilantro lime cole slaw, drizzled with Pineapple Habanero sauce, served with arroz verde and Southwestern black beans
RUIDOSO RIBS – Half rack of slow-roasted pork ribs slathered with Smokey Red Rye BBQ and served with Southwestern black beans and loaded smashed potatoes
SLABTOWN STRIP – House-cut, twelve ounce Angus NY Strip served with sautéed vegetables and loaded smashed potatoes
2 NEW APPETIZERS!
PORK BELLY SKEWERS – Two grilled skewers of house-cured and beer-braised pork belly drizzled with Pineapple Habanero sauce
TURTLE TIDBITS – A selection of three cured meats paired with three artisanal cheeses, served with TMBC mustard, basil pesto, crostini and grapes
PLUS…
KONA CHICKEN – Grilled eight ounce chicken breast with pepper jack, ham, grilled pineapple ring and Smokey Red Rye BBQ on a fresh kaiser roll
HOUSE-PULLED FRESH MOZZARELLA – Now available every day
NEW WING SAUCES – Sweet & spicy pineapple habanero AND Smokey Red Rye BBQ
KIDDIE BURGER – Hamburger, sized just right for your Turtle Tot!
You can view the new menu in it's entirety here. And don't fret most, if not all, of your old favorites are still available via our (SSHH!) secret menu.
It's been 69 days since we welcomed dine-in patrons at Turtle Mountain, and we were all eager to see your faces and hear how all of you were doing in this uncertain time. We will re-open on Monday, June 1st at 11 am to welcome you back inside Rio Rancho's Neighborhood Brewpub Since 1999. Thanks for all of your support and generosity since March 19th, and we look forward to once again taking care of your food and beverage needs!
Thank you to Governor Lujan Grisham for allowing restaurants with patios to open up for limited service before the announced date of Monday, June 1st. A little more than 1 day's notice would have been helpful, but this is definitely a step in the right direction.
In preparing to staff the restaurant, have much needed food supplies delivered, prepping all the menu items that we 86'd to create the limited to-go and delivery menu, and of course cleaning and sanitizing the inside and outside of the restaurant, the management team and I here at Turtle Mountain were operating on the assumption that we could not open up until June 1st. We are not ready just yet to open up for you, our generous and supportive patrons …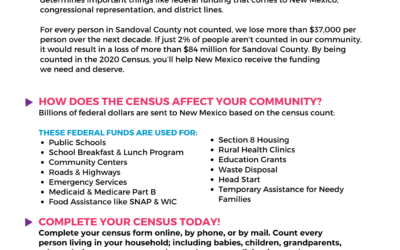 THIS CHANCE ONLY COMES ONCE A DECADE! BE COUNTED! Did you know, for every person in Sandoval County NOT counted, we lose more than $37,000 per person over the next decade. If just 2% of people aren't counted in our community, it would result in a loss of more than $84...