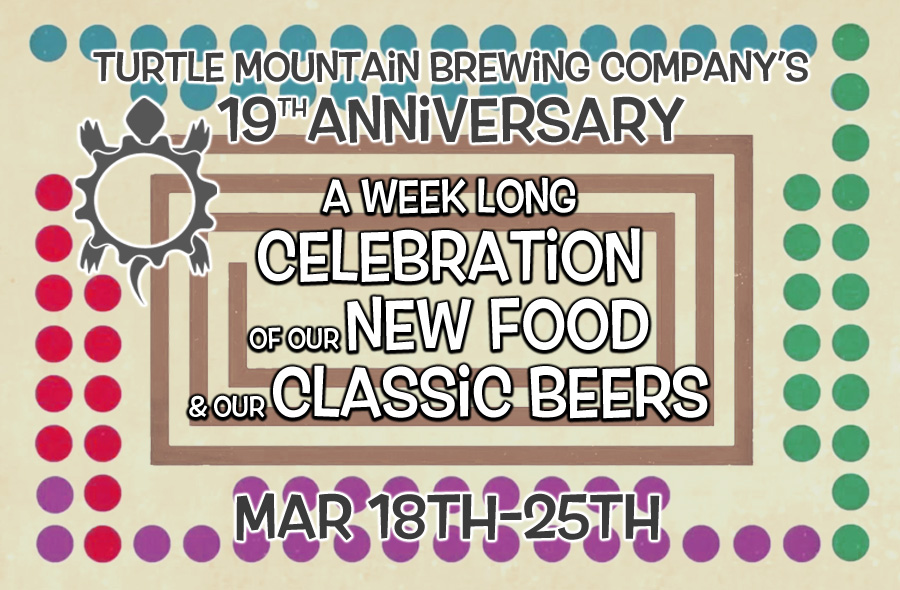 March 18th – March 25th join us for a full week of celebration! Turtle Mountain is turning 19 thanks to you Rio Rancho!
To highlight our venerable past and bright future, please stop by the pub to celebrate with us and enjoy these special deep-discounted pairings of our newest menu offerings and longest running house beers. It promises to be a week to remember (except for maybe Wednesday when we resurrect the Amnesia Ale)
SUNDAY

Turtle Tidbits – A selection of three cured meats paired with three artisanal cheeses, served with TMBC mustard, basil pesto, crostini and grapes
paired with
Can't Catch Me Copper Lager – A lightly toasted lager, showcasing the floral earthiness of German Hallertau hops

MONDAY

Santa Rosa Fish Tacos – Three blue corn tortillas filled with flaky cod fillets and cilantro lime cole slaw, drizzled with pineapple habanero sauce
paired with
Wooden Teeth American Lager – A traditional New World lager with a light malt base using corn and rice sugars in addition to malted barley, to embed layers of crisp flavors

TUESDAY

Pork Belly Skewers – Grilled skewers of house-cured and beer-braised pork belly drizzled with pineapple habanero sauce
paired with
Hopshell IPA® – Brewed in the High Desert tradition, Hopshell bombards your senses with enough tropical fruit, juicy citrus and rich floral aroma to leave your worries in ruins

WEDNESDAY

Ruidoso Ribs – Half rack of slow-roasted pork ribs slathered with smoky Red Rye BBQ, served with Southwestern black beans and loaded smashed potatoes
paired with
19th Anniversary Amnesia Ale!

THURSDAY

Slabtown Strip – House-cut, twelve ounce Angus NY Strip served with sautéed vegetables and loaded smashed potatoes
paired with
Any TMBC Seasonal Brew! HAPPY B-DAY TO THE PUB!

FRIDAY

Pizza Classico – Pomodoro sauce, house-pulled mozzarella and shredded parmesan topped with fresh basil
paired with
Red Rye Redux – This resurrected ale leads with aromas of fruit and spice that are bolstered by a warm, toasty and toffee malt body.

SATURDAY

Pizza Alamosa – Alfredo sauce, spinach, mushrooms, diced tomatoes, chicken, mozzarella and shredded parmesan
paired with
Parasol White IPA –  The softer of our two house IPAs leading with a floral and citrus aroma and finishing with the soft sweetness provided by malted wheat.

SUNDAY

The Miah-T Pizza – Marinara, pepperoni, bacon, Italian sausage, mushrooms, green chile, black olives, shredded parmesan and mozzarella
paired with
Stauffenberg Stout – Lusciously rich oatmeal stout with warm layers of chocolate and caramel flavors, aromas of dark fruit and sweet almond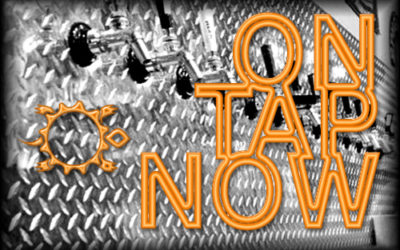 With the help of our rock solid customers, the past two decades have created memories that are igneous yet sweet. To celebrate our 20th year, we wanted to forge a beer that would be as memorable and fantastic as our life in Rio Rancho. This Steinbock incorporated...