From Nico's Desk, Thank You! 3/23 (Update: 3/28)
UPDATE:
March 28, 2020
To Members of the Turtle Mountain Community:
I would like to extend a heartfelt THANK YOU! on behalf of all of us who work at Turtle Mountain for the overwhelming show of support this past week and the incredible generosity shown to the hard-working kitchen and front-of-house staffers who do their best to provide all of you with your to-go and delivery orders as quickly and as accurately as possible.
We are all very humbled by the outpouring of love shown by both regular customers and new customers alike. We can't wait to re-open to dine-in business so we can all get caught up on what we missed in each other's lives while we were staying at home.
All of us here at Turtle Mountain miss seeing all of you, and we look forward to the lifting of the dine-in restriction so we can all get back to business as usual. In the meantime, keep coming in and saying hi. We always look forward to seeing friendly faces.
Nico Ortiz, Proprietor.
March 23, 2020
Thank You Governor Lujan Grisham for considering restaurants offering carry-out and delivery to be Essential Businesses. We all consider ourselves to be essential, and we are glad that you do too.
Our ability to bring in some cash flow and keep some of our employees working can mean the difference between weathering the storm or closing down completely.
Turtle Mountain will comply with this directive to the best of our ability, and we thank you again for letting us do what we do best, feed the people of the Great State of New Mexico!
https://nmhealth.org/news/awareness/2020/3/?view=868
Nico Ortiz, Proprietor.
It's been 69 days since we welcomed dine-in patrons at Turtle Mountain, and we were all eager to see your faces and hear how all of you were doing in this uncertain time. We will re-open on Monday, June 1st at 11 am to welcome you back inside Rio Rancho's Neighborhood Brewpub Since 1999. Thanks for all of your support and generosity since March 19th, and we look forward to once again taking care of your food and beverage needs!
Thank you to Governor Lujan Grisham for allowing restaurants with patios to open up for limited service before the announced date of Monday, June 1st. A little more than 1 day's notice would have been helpful, but this is definitely a step in the right direction.
In preparing to staff the restaurant, have much needed food supplies delivered, prepping all the menu items that we 86'd to create the limited to-go and delivery menu, and of course cleaning and sanitizing the inside and outside of the restaurant, the management team and I here at Turtle Mountain were operating on the assumption that we could not open up until June 1st. We are not ready just yet to open up for you, our generous and supportive patrons …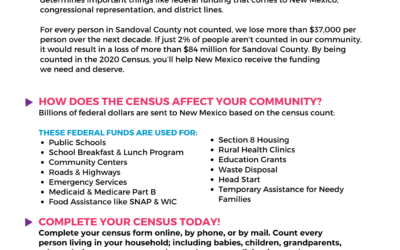 THIS CHANCE ONLY COMES ONCE A DECADE! BE COUNTED! Did you know, for every person in Sandoval County NOT counted, we lose more than $37,000 per person over the next decade. If just 2% of people aren't counted in our community, it would result in a loss of more than $84...