From Nico's Desk, Thank You! 3/23 (Update: 3/28)
UPDATE:
March 28, 2020
To Members of the Turtle Mountain Community:
I would like to extend a heartfelt THANK YOU! on behalf of all of us who work at Turtle Mountain for the overwhelming show of support this past week and the incredible generosity shown to the hard-working kitchen and front-of-house staffers who do their best to provide all of you with your to-go and delivery orders as quickly and as accurately as possible.
We are all very humbled by the outpouring of love shown by both regular customers and new customers alike. We can't wait to re-open to dine-in business so we can all get caught up on what we missed in each other's lives while we were staying at home.
All of us here at Turtle Mountain miss seeing all of you, and we look forward to the lifting of the dine-in restriction so we can all get back to business as usual. In the meantime, keep coming in and saying hi. We always look forward to seeing friendly faces.
Nico Ortiz, Proprietor.
March 23, 2020
Thank You Governor Lujan Grisham for considering restaurants offering carry-out and delivery to be Essential Businesses. We all consider ourselves to be essential, and we are glad that you do too.
Our ability to bring in some cash flow and keep some of our employees working can mean the difference between weathering the storm or closing down completely.
Turtle Mountain will comply with this directive to the best of our ability, and we thank you again for letting us do what we do best, feed the people of the Great State of New Mexico!
https://nmhealth.org/news/awareness/2020/3/?view=868
Nico Ortiz, Proprietor.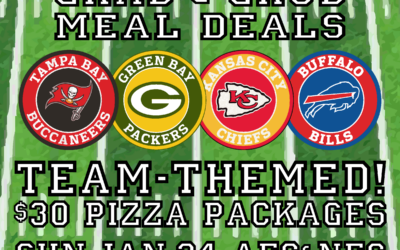 Sunday, Jan. 24 – AFC & NFC Championship Games
We're offering Team-Themed, Pizza & Appetizer Bundles, only $30 each! Thats like getting the 4th quarter for FREE!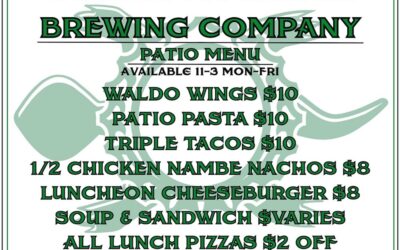 Come on over and enjoy our delicious new patio lunch menu!
11-3 Monday – Friday!
• Waldo Wings $10
Stout-boiled wings tossed in your choice of sauce served with carrots, celery and ranch or bleu cheese for dipping
• Patio Pasta $10
Fettucine, shredded chicken and green chile alfredo sauce topped with shaved parmesan, served with …
End of an Era, We're Retiring our Mug Club 🙁 
To the Turtle Mountain Community: 
Due to the impossible task of being able to properly clean and sanitize individual mugs, and for the overall safety of all of you, our patrons, we have made the difficult decision to retire the Mug Club after 22 years.
I have so many fond memories of the original Mug Club shelf at the old Turtle, and I can still picture the mugs and name the founding members.  The camaraderie continued when we moved into this new building back in 2006. But alas, all good things must come to an end …