Turtle Mountain Brewing Company is coming to Enchanted Hills! I signed a lease on Monday for a 4500 SF space with a 1400 SF patio located in the Plaza @ Enchanted Hills. I have been looking for a new, second restaurant location for about a year and a half, and I was growing frustrated with the limited availability of spaces which had adequate parking, space for a patio, and a reasonable lease rate. I finally found one, and right in my backyard! Everything, such as building permits and liquor license applications, is taking longer in this remote working environment, so getting open will take a few more months than normal. But we hope to be open in time for our 22nd Anniversary in March of 2021! Thanks to everybody for your support during this time of great stress in the restaurant industry. My high hopes for 2020 have been pushed forward to 2021.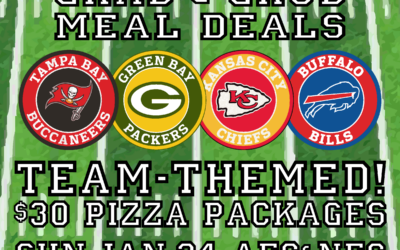 Sunday, Jan. 24 – AFC & NFC Championship Games
We're offering Team-Themed, Pizza & Appetizer Bundles, only $30 each! Thats like getting the 4th quarter for FREE!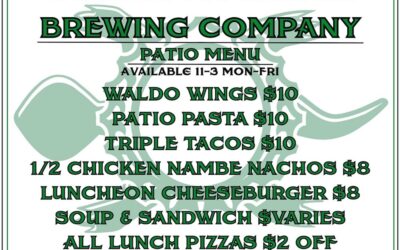 Come on over and enjoy our delicious new patio lunch menu!
11-3 Monday – Friday!
• Waldo Wings $10
Stout-boiled wings tossed in your choice of sauce served with carrots, celery and ranch or bleu cheese for dipping
• Patio Pasta $10
Fettucine, shredded chicken and green chile alfredo sauce topped with shaved parmesan, served with …
End of an Era, We're Retiring our Mug Club 🙁 
To the Turtle Mountain Community: 
Due to the impossible task of being able to properly clean and sanitize individual mugs, and for the overall safety of all of you, our patrons, we have made the difficult decision to retire the Mug Club after 22 years.
I have so many fond memories of the original Mug Club shelf at the old Turtle, and I can still picture the mugs and name the founding members.  The camaraderie continued when we moved into this new building back in 2006. But alas, all good things must come to an end …