To the Turtle Mountain Community:
Due to the current restriction of on-premise dining we will be modifying our hours beginning Monday, November 23rd through Thursday, December 31st. Our new kitchen hours will be:
Monday – Thursday: 3 pm to 7:30 pm.
Friday – Saturday: 11 am to 8:30 pm.
Sunday: 11 am to 7:30 pm.
It breaks my heart to once again have to furlough many of the hard-working employees I have here at Turtle Mountain, but with a prohibition on dine-in service comes a significant reduction in revenues, and unpleasant cutbacks are the result. This is especially painful because of the time of year we are entering.
I am hopeful that all of us can and will do our part this holiday season to stop the spread of COVID so we can once again enjoy dining in our favorite restaurants and sipping pints in our favorite taprooms beginning in 2021.
I want to thank each and every one of you for the support you have shown myself and all of the employees of Turtle Mountain over the last 21.75 years, but especially since March 19th of this year. All of us in the restaurant and brewing industry could never have predicted how what was shaping up to be one of the best years ever could have taken such a horrible turn. But with the generous support from all of you, we have persevered through 2020 and have high hopes again for 2021.
All of us here at Turtle Mountain wish you a very safe and very small Thanksgiving (we will be open for beer sales from 11am-3pm this Turkey Day). We look forward to the future and to once again welcoming you into Rio Rancho's Neighborhood Brewpub as we celebrate our 22nd Anniversary on March 22nd, 2021!
Nico Ortiz, Proprietor.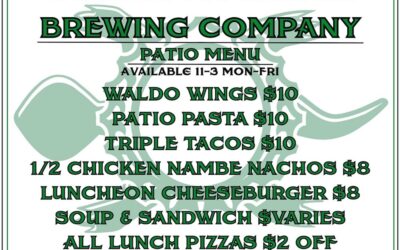 Come on over and enjoy our delicious new patio lunch menu!
11-3 Monday – Friday!
• Waldo Wings $10
Stout-boiled wings tossed in your choice of sauce served with carrots, celery and ranch or bleu cheese for dipping
• Patio Pasta $10
Fettucine, shredded chicken and green chile alfredo sauce topped with shaved parmesan, served with …
End of an Era, We're Retiring our Mug Club 🙁 
To the Turtle Mountain Community: 
Due to the impossible task of being able to properly clean and sanitize individual mugs, and for the overall safety of all of you, our patrons, we have made the difficult decision to retire the Mug Club after 22 years.
I have so many fond memories of the original Mug Club shelf at the old Turtle, and I can still picture the mugs and name the founding members.  The camaraderie continued when we moved into this new building back in 2006. But alas, all good things must come to an end …
Hours for 2021
To the Turtle Mountain Community:
We finally have some good news to report!  
I know that being closed for lunch business Monday thru Thursday has been inconvenient for many of you, and it certainly has been revenue-negative for the employees who previously worked those shifts. In an effort to put 2020 behind us and focus on returning to a normal state in 2021, we have decided to return to our pre-closure hours beginning on Friday, January 1st, 2021. These hours will be:
Sun-Thurs: 11am to 7:30pm
Fri&Sat: 11am to 8:30pm …