Bitburger & Sierra Nevada – Triple Hop'd Lager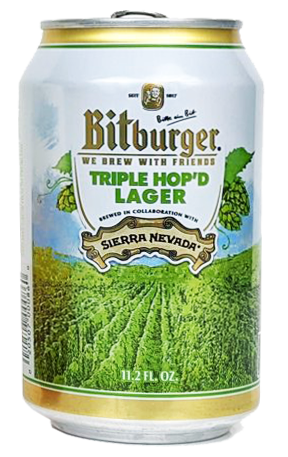 Brewed from three hop varieties – Cascade from the Eifel region in Germany and Centennial and Chinook from the USA – and refined with Bitburger's own "Siegelhopfen," a secret hops blend, this year's collaboration brew is an exciting mix that combines a fruity hop taste with a balanced bitter-malty flavor. Great depth to this beer. Expect an intensity of malt fattiness, refreshing minerality, and hints of sourdough. Rather than another American brewery's take on a German hoppy pale lager, we get a German brewery's take on an American hoppy pale lager. The result is glorious with such detail to admire. Served in 330ml cans (11.2oz) Triple Hop'd Lager is nicley-sized for a summertime patio quaff. Try one before they're gone forever from the face of the Earth.
"Bitte ein Bit!"
Turtle Mountain's Bräucket List is comprised of rare, often one-time-offered, intriguing brews from around the globe. We pipeline them into the pub so "serious" beer drinkers (like us) get a chance to mark them off their Bucket List.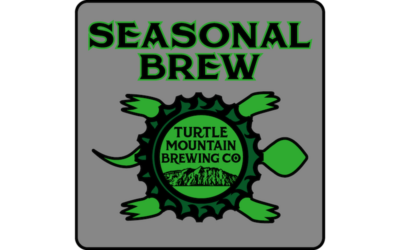 OG 1.060 / IBU 30 / ABV 6.5   
With open hand and mouth we explore the grassy fields of Germania. Pleasant are the yellowed planes of the agricola, favorable and fertile with flavor. The nectar of the terrain, can only come forth with Stürm…
It's been 69 days since we welcomed dine-in patrons at Turtle Mountain, and we were all eager to see your faces and hear how all of you were doing in this uncertain time. We will re-open on Monday, June 1st at 11 am to welcome you back inside Rio Rancho's Neighborhood Brewpub Since 1999. Thanks for all of your support and generosity since March 19th, and we look forward to once again taking care of your food and beverage needs!
Thank you to Governor Lujan Grisham for allowing restaurants with patios to open up for limited service before the announced date of Monday, June 1st. A little more than 1 day's notice would have been helpful, but this is definitely a step in the right direction.
In preparing to staff the restaurant, have much needed food supplies delivered, prepping all the menu items that we 86'd to create the limited to-go and delivery menu, and of course cleaning and sanitizing the inside and outside of the restaurant, the management team and I here at Turtle Mountain were operating on the assumption that we could not open up until June 1st. We are not ready just yet to open up for you, our generous and supportive patrons …