Autumnfest Ale&Lager Dinner
Oct.22nd join us for a very special evening!
Our chefs & brewers have been hard-at-work crafting an amazing beer-paired harvest menu for Autumnfest. Featuring five elegantly delectable plates built around six audaciously delicious beers, including the premier of the ridiculously right Nothing Really Batters Pancake Stout. You absolutely should not miss this event.
APERITIF

Perihelion Wet-Hopped IPA

SOUP

Green Chile & Sweet Corn Bisque with Truffled Cornbread Croutons, Parsley Oil, Micro Corn Shoots
served with Wooden Teeth American Lager

SECOND

Asadero & Duck Confit Tamales with Hominy Calabasitas, plated over 5 Autumnal Sauces of Red Chile, Roasted Corn, Butternut Squash, Fume Refritos & Avocado Crema
served with Rainbow in the Dunkel

PASTA

Hand-Rolled Pumpkin Linguini with Ale-Braised Apple Sausage, Pumpkin Seed & Pistachio Pesto Cream Sauce, Ancho-Dusted Pepitos
served with Rusticana Brown Ale

MAIN

Oktürtlefest Lamb Shank with Sweet Potato Succotash, Charred Brussel Sprouts, TMBC Mustard Pan Sauce
served with Oktürtlefest Munich Lager

DESSERT

Apple Cranberry Bread Pudding with Butternut Bourbon Ice Cream, Toffee Crumble, Candied Pecan Maple Bacon
served with Nothing Really Batters Pancake Stout
Get your tickets now. Turtle's Brewer's Dinners always sell out. Seats for this extravagant event are only $65 with
tax&tip
already 
included
.
Tickets are only available online GO HERE to purchase & reserve your spot today
.
http://tickets.holdmyticket.com/tickets/349174
It's been 69 days since we welcomed dine-in patrons at Turtle Mountain, and we were all eager to see your faces and hear how all of you were doing in this uncertain time. We will re-open on Monday, June 1st at 11 am to welcome you back inside Rio Rancho's Neighborhood Brewpub Since 1999. Thanks for all of your support and generosity since March 19th, and we look forward to once again taking care of your food and beverage needs!
Thank you to Governor Lujan Grisham for allowing restaurants with patios to open up for limited service before the announced date of Monday, June 1st. A little more than 1 day's notice would have been helpful, but this is definitely a step in the right direction.
In preparing to staff the restaurant, have much needed food supplies delivered, prepping all the menu items that we 86'd to create the limited to-go and delivery menu, and of course cleaning and sanitizing the inside and outside of the restaurant, the management team and I here at Turtle Mountain were operating on the assumption that we could not open up until June 1st. We are not ready just yet to open up for you, our generous and supportive patrons …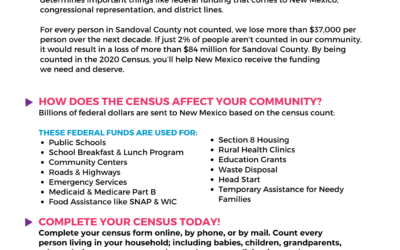 THIS CHANCE ONLY COMES ONCE A DECADE! BE COUNTED! Did you know, for every person in Sandoval County NOT counted, we lose more than $37,000 per person over the next decade. If just 2% of people aren't counted in our community, it would result in a loss of more than $84...