From Nico's Desk – 1/1/21
Re: Hours for 2021
To the Turtle Mountain Community:
We finally have some good news to report!  
I know that being closed for lunch business Monday thru Thursday has been inconvenient for many of you, and it certainly has been revenue-negative for the employees who previously worked those shifts. In an effort to put 2020 behind us and focus on returning to a normal state in 2021, we have decided to return to our pre-closure hours beginning on Friday, January 1st, 2021. These hours will be:
Sunday through Thursday – 11 am to 7:30 pm.
Friday and Saturday – 11 am to 8:30 pm.
I am hopeful with the holidays behind us and the new vaccines making their way into wide distribution that we will be able to enter the yellow level and resume indoor dining early in 2021. But until then, we will be sourcing patio heaters as they become available to provide as warm a patio environment as possible.
All of us at Turtle Mountain Brewing Company Thank You for your support during this very difficult year, and we wish you a Fantastic New Year!
Nico Ortiz, Proprietor.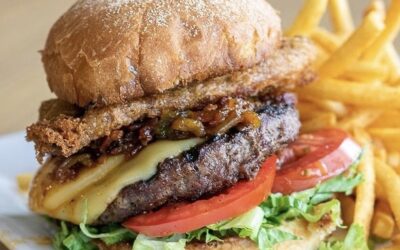 The Green Chile Cheeseburger Smackdown is Sept.11 Our special competition entry this year is the CHRISTMAS IN JULY BURGER · A half pound Angus beef burger, · Beer-batter-fried green chile, · Chimayo red & green chile bacon jam, · with Smoked gouda · on a cornmeal...